Current Promotions
Welcome to Aspen Avionics' current promotions page. Find details about all of our current pricing specials. Let the savings begin!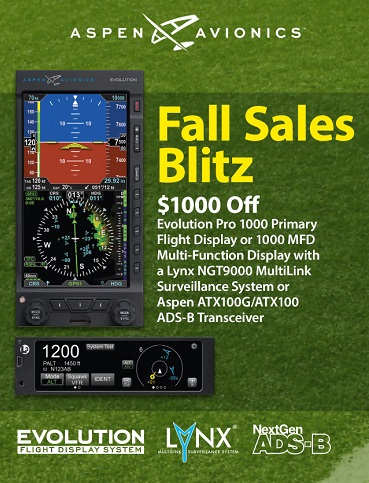 Aspen is pleased to offer several promotions during the month of October:
Save $1000 off list prices on any Aspen Pro PFD 1000 or MFD 1000 with the purchase of the Lynx NGT-9000 ADS-B transponder. We have expanded this offer to include the ATX100 or ATX100G Aspen ADS-B transceivers. If you are unaware, Aspen also stocks the Lynx NGT-9000.

Don't forget to reserve your $500 rebate code through the FAA's ADS-B rebate program so you can save even more to become compliant.
Lastly, Aspen has released the v2.9 software that provides additional weather capability on the MFD1000/500 MFDs and the-much anticipated Genesys (S-TEC) System 55X autopilot integration announced on October 5, 2016.
| | | |
| --- | --- | --- |
| List Price | System | Discount |
| $21,750 | Evolution 3000 (C3 PFD, MFD+External Battery and Evolution Hazard Awareness) | $4,731 |
| $19,995 | Evolution 2500 (Pro PFD, MFD1000, MFD500) | $5,490 |
| $15,995 | Evolution 2000 (Pro PFD, MFD1000) | $3,995 |
| $12,995 | Evolution 1500 (Pro PFD, MFD500) | $3,495 |
Additionally, the ATX100 and ATX100G ADS-B transceivers pricing reduction remains in effect.
ATX100: $1,995 List
ATX100G: $2,995 List
L-3 Lynx NGT-9000 pricing promotion continues.
Find your nearest authorized Aspen Avionics dealer.
Promotion expires October 31, 2016.
Important links to Aspen's ADS-B Solutions:
Click here to access our ADS-B Configurator to find out what solution is right for you.
There's also financing available from the NextGen GA Fund. Get Weather. Get Traffic. Get Compliant for as low as $250 per month.
To learn more about Aspen Evolution products, click here to contact us. Please select product inquiry from the drop down menu. Someone will be in touch soon.